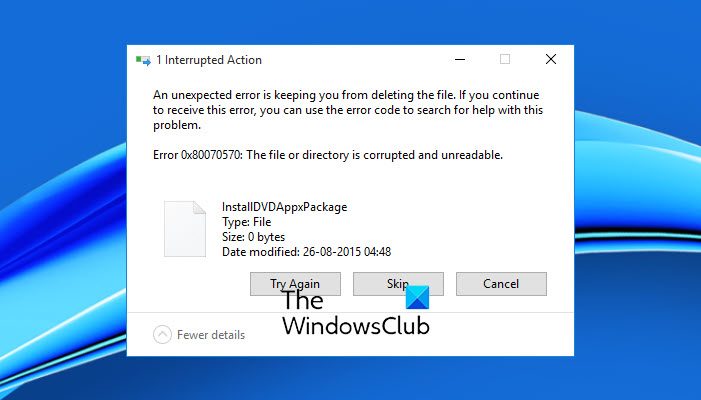 Unable to delete file, error 0x80070570, file or directory is corrupt
If you can't delete a file and an error message appears Error 0x80070570, the file or directory is corrupt and unreadableon Windows 11/10, then this article is sure to help you.
Error 0x80070570, the file or directory is corrupt and unreadable
Error 0x80070570 mostly occurs due to on-disk (FAT, MFT) file directory issues, especially when trying to move files from an external hard drive or USB flash drive. A damaged or faulty drive can also cause the message 0x80070570 to flash on your computer screen. You can use one of the following methods to resolve this problem.
Restart your computer and retry
Run CHKDSK command in CMD
Scan for virus
Try deleting in safe mode
Create a new user account.
1]Restart your computer and try again
Restart your computer and then try to perform this operation. In all likelihood, this simple step can help.
2]Scan for viruses
If your hard drive or USB drive is infected with malware, such errors may appear while trying to move or delete files.
Run Windows Defender or a standalone on-demand scanner to scan your computer and remove any traces of viruses or malware.
3]Run CHKDSK command in CMD
File system corruption can lead to this problem. Running the following CHSKDSK command in the command prompt may resolve this issue.
chkdsk

 /f C:
Once started, the check disk operation starts on the drive and repairs errors, if found. Depending on the number of files, hard drive size, number of hard drive errors, and the options you choose, CHKDSK can take anywhere from a few minutes to several hours.
Related: Unable to delete items from the Recycle Bin.
4]Boot into safe mode
Try to access the drive or folder in safe mode because applications you try to run on your system in normal mode can cause some issues with the directory.
You can boot into safe mode and then try to perform the removal operation.
5]Create a new user account
If all the above methods do not work or do not give the desired results, create a new user account. The system file corruption may extend to a point where running the CHKDSK command in CMD or booting into safe mode may not be able to fix it. Creating a new user account will help you work around this problem.
More suggestions here: How to delete undeletable and locked files and folders in Windows.
Can a defective hard drive be repaired?
Certainly yes, hard drives are repairable however, they should not be reused after a restoration! It is better to throw them away as soon as their contents are recovered. Because once broken, there is no guarantee that they won't have any problems in the future.
Read: Free file removal software to remove locked files and folders.
Can a hard drive last 10 years?
On average, the hard drive lasts about 5 years before failing beyond repair. So, although some hard drives can survive for 10 years or more, best practice suggests that they should be replaced after 5 years.
Hope that helps!
Read: Unable to delete icons, files or folders on the Windows desktop.