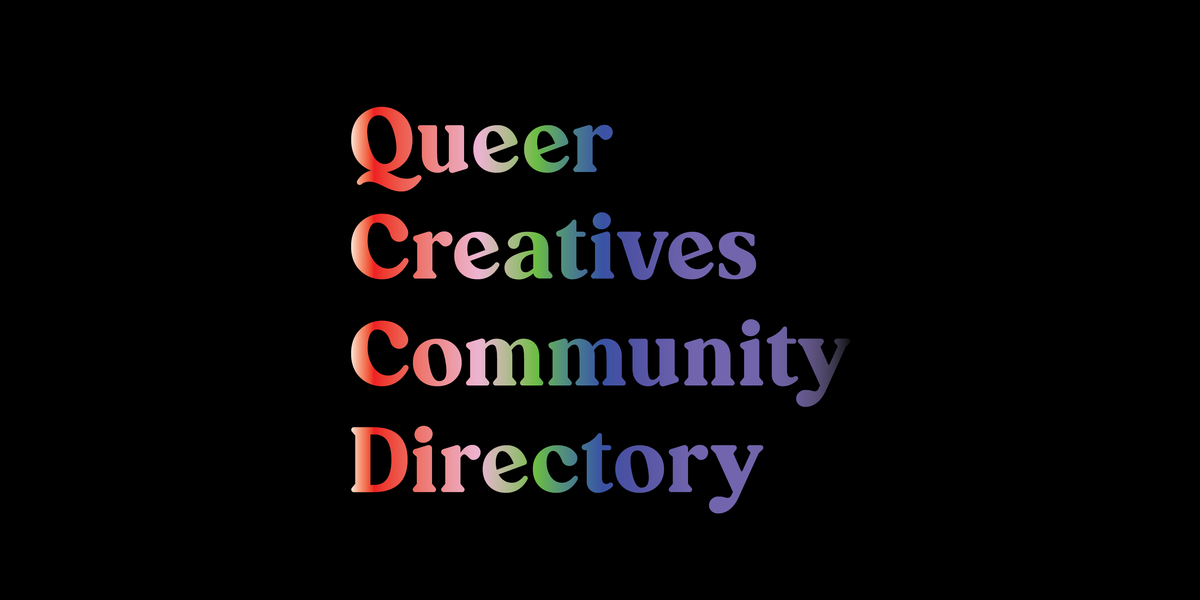 The Queer Creatives Community Directory Gives Back
For many queer people, giving back to the community is of the utmost importance, especially when it comes to hiring for creative projects and endeavours. However, the sad reality is that most of the creative industries are dominated by cis-hetero people, but that is something that is about to change. Enter the Queer Creator Community Directorya centralized spreadsheet directory that serves as the queer online version of the Yellow Pages.
The brainchild of a graphic designer and a drag artist untitled queenwhich "resides on the stolen land of Lenapehoking (so-called Brooklyn)," the free directory is an effort to connect members of the LGBTQIA2S+ community through a master roster of creatives with specialized skills.
If there are already several directories that are essential for queer designers and Black trans women in the arts, the Queer Creatives Community Directory aims to provide a wider range of services, connecting you directly with queer creatives from all walks of life in every industry imaginable, including illustrators, marketers, ASL interpreters, burlesque performers, DJs, tarot readers, tattoo artists, actors, florists and building contractors, among others. So whether you need someone to build a bookshelf, paint a mural, read your birth chart, paint your portrait, or act as your on-set intimacy coordinator, the directory has you covered.
After all, Untitled Queen explained that the LGBTQIA2S+ community can only be self-sufficient through internal support and contributions, especially since many members face many "workplace disadvantages." Not only that, but a good portion also don't have much security or benefits in the workplace as freelancers, performers, sex workers, etc. But on the other hand, it also means "we are all maximum hustlers who wear a million hats.
"So having a resource like this is really great, because people can [use the directory] for visibility," she said, adding that she finds herself "looking for someone in the community who can get a job done" almost daily.
"Often I would be [looking for someone] and found that other people were really looking for the same thing," Untitled Queen said, mentioning that many community members are also looking for self-employed individuals and small business owners, rather than an in-company service provider.
"I think people are just trying to give us money, because how do you help these people? Give them money," she continued. "That's, quite simply, probably the best strategy for any kind of self-help, fundraising, or community health program – putting money in the pockets of that community and, I think, that's what that people liked the most in this list."
Admittedly, this is something Untitled Queen knows all too well. A well-known community organizer, she has spent years organizing events like the Brooklyn Ball, which benefits LGBTQIA2S+ organizations and providers such as Callen Lordeand putting on digital shows for drag artists of color across the country and around the world.
Much like her other local efforts, Untitled Queen decided to keep things as accessible as possible by having her friend and Google Assistant Spreadsheet, Jesse Ramsay, assemble the directory from nearly 1,400 Google Form submissions. And the end result is an "anarchic, old-school, PC-running-on-a-kind-of-thing" spreadsheet that looks "very much like Web 1.0" which, in the age of infinite apps, is an apt reflection of all the Untitled Queen's DIY philosophy.
Perhaps most importantly though, by having a queer-specific resource like this, it's also much easier to find someone with "the sensitivity and knowledge of what's going on in this community that we need to ourselves or for our projects". And the best part is that it will only grow, as Untitled Queen and Ramsay continue to update the directory every month.
"An example is queer wellness and all things body stuff, so a lot of people are looking for queer tattoo artists, people who know right off the bat," she said, also adding that discrimination and Dangerous experiences can also come from using non-gay services like moving companies.
The only thing is that since the project started with Untitled Queen's particular network, many of these creatives are based in New York. However, "anyone from anywhere" is welcome to submit, with location proving to be less of a barrier for those who can work remotely. By virtue of this, Untitled Queen also pointed out that the directory has the ability to provide work opportunities to those living outside the five boroughs, creating a nationwide network of queer creatives, with the hopes of many more. future.
"We don't usually have these built-in support systems, so to survive we have to do what we have to do and usually that means looking out for each other," Untitled Queen said. "It's kind of just an extension of that."
Check out the Queer Creatives Community Directory here.
welcome to "InternetExplorer," one column per Sandra Song all over the internet. From meme stories to joke format explainers to collections of some of Twitter's best roasts, "Internet Explorer" is here to keep you up to date with current web obsessions, be they absurd or nihilistic.