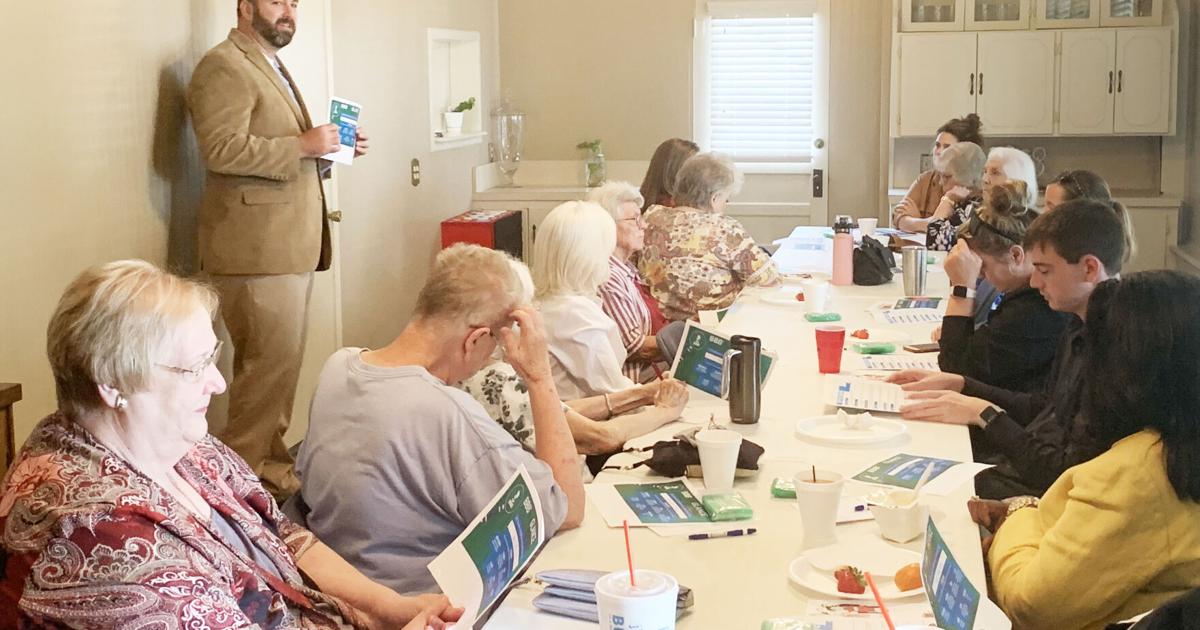 Panola County Senior Session Focuses on Scam Prevention | Lifestyles
Scams and how to avoid them were the main topics at the first Panola County Seniors Meeting held Sept. 1 at the Panola County Chamber of Commerce.
More than 20 people attended the kick-off meeting, which House Speaker Keri-Perot-Vance said will become a regular event. She said the sessions will focus on providing helpful information to seniors in Panola County.
"Our next meeting is scheduled for October 6 at 10 a.m.," she said. The meeting will again be held at the chamber offices, 300 W. Panola St.
"We're excited to see what the future holds for this new group," said Perot-Vance.
Speakers at the initial meeting were Carthage Police Chief Blake Smith and Coleman Swierc, director of the Better Business Bureau of Central East Texas.
Swierc said the BBB has compiled a list of the top 10 scams the organization has encountered in East Texas over the past year.
"Most of the scam victims we see, and I'll put it mildly, haven't used a lot of common sense," he said. "That's not to say they're not smart, but they reacted in a way they shouldn't have, and they did something without maybe thinking about it all the way."
Top of the list of scams for the region is for purchases made online, Swierc said.
"No. 1 is anything you buy online that when delivered to you isn't what you bought or is broken," he said. get refunds or returns because those things aren't clearly listed on the website or aren't clearly listed on how to do it."
He said the biggest and most common online retailers got there because of their reputation for treating customers well. Not everyone likes dealing with Amazon, Walmart, Ebay, Target and other big online retailers, Swierc said.
"But they're the best at doing what they do for a reason," he said. "So when you're buying something online, maybe from somewhere you've never heard of, maybe the website looks a little sketchy and you're not really clear on their return policy."
Another major scam is phishing and smishing (text message phishing), where the victim receives an email, phone call or text message asking them to click on a link, share information or download an attachment that may contain malware.
Swierc said another scam commonly encountered by the public occurs when consumers are approached with offers they may have won in a sweepstakes or lottery.
"If it sounds too good to be true, it probably is," Swierc said. "You will never win a lottery or contest you have never entered."
Consumers should beware and avoid paying a fee to claim their share of a prize when prompted, he said. They should also not provide personal information, such as bank details, social security numbers or credit card numbers.
Swierc said while the scams may seem like a lot, they're actually only a small part of the BBB's complaints.
"We handled 1,700 business complaints last year. One of the weirdest terms about the BBB is that we only deal with business complaints, but if you do the math here, less than one percent of what we do are actually complaints," said Swierc. "We have approximately 2,500 accredited businesses in our 19 counties."
Swierc said the BBB's East Central Texas region last year provided 1.7 million instances of services to consumers, businesses and charities.
While scams can dominate soundbites and headlines, Swierc said the majority of companies are honest and operate with sound business practices.
"Most companies behave well, not everyone behaves badly," he said. It's those with issues that the BBB can help educate consumers about.
Among the attendees was Kim Turner, Director of the Sammy Brown Library.
"At the library, what we reiterate to you is #1, avoid creating a sense of urgency in any scam," she said. Often people pushing their scam unknowingly use pressure tactics and encourage their target to make a quick decision on the spot.
"There's no need to do that today," Turner said, urging consumers to do their research before making decisions. "Then once you have the information from them, verify the source."
Swierc said that by being educated, using common sense and being alert to the possibility of scams, consumers can often save themselves headaches and money.
"At least do enough research to know what you might be getting yourself into before you go and spend your money," Swierc said. One resource available is a 2022 home improvement guide and business directory distributed by the BBB.
Perot-Vance said the chamber of commerce office has a limited number of directories available free of charge to consumers who want copies. She said anyone with ideas for future programs can contact her.