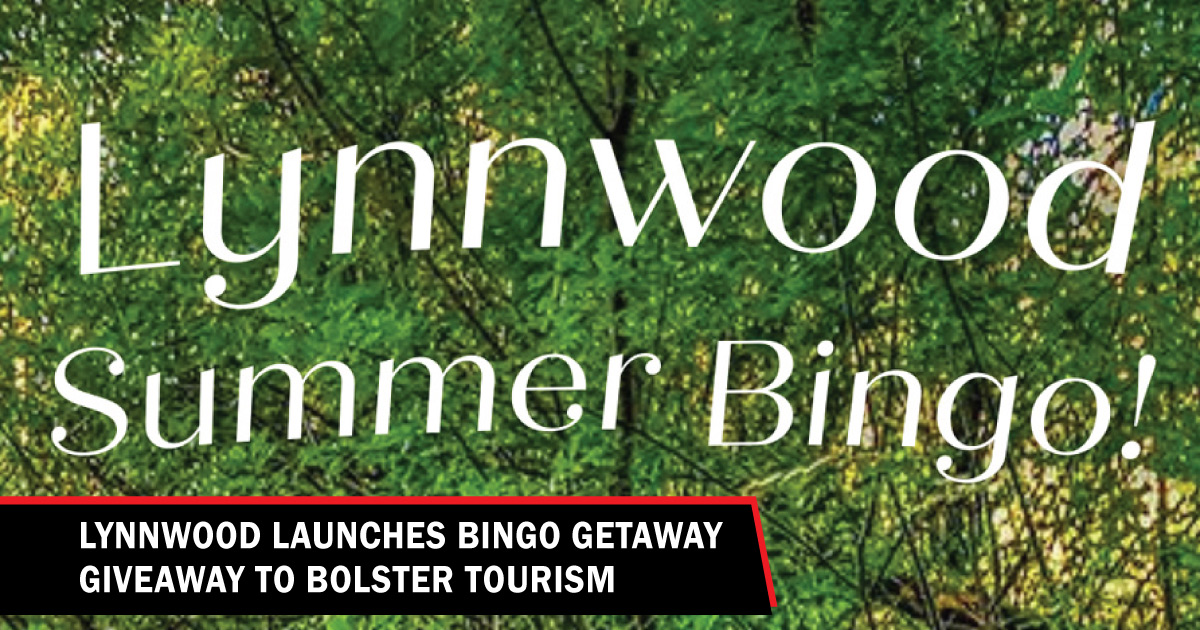 Lynnwood launches Bingo Getaway Giveaway to boost tourism
LYNNWOOD – Lynnwood's Business Development and Services Department launched its first-ever Bingo Giveaway this summer as part of its digital content strategy to increase awareness of Lynnwood, local businesses, attractions and events.
Those interested in participating can download a digital bingo card made up of nine Lynnwood-based experiences, including:
Explore Lynnwood Heritage Park
Savor delicious pizza in Lynnwood
Watch Shakespeare in the Park (July 28 and August 4)
Shop for fresh produce at nearby farmers markets
Swim in a hotel pool or at the Lynnwood Leisure Center
Experience relaxation at a spa
Enjoy Yeh Yeh's Vietnamese Sandwiches
Watch or play at the playgrounds of Meadowdale
Hike near Lynnwood
After downloading the map and participating in its listed attractions, participants can post their progress on social media using the hashtag #lynnwoodsummerbingo have a chance to win an overnight stay at one of the city's hotel partners as well as a gift card for a meal or experience at a partner business. Each posting is worth one entry and the location of the stay will be based on the availability of the City's accommodation partners, rotating throughout the campaign.
Alderwood Shopping Center specific gift cards will also be rewarded, donated by corporate partners. All giveaway prizes and expenses are made possible by lodging taxes collected in the City of Lynnwood, which may be used for tourism marketing and promotion to increase future room nights.
Winners will be randomly selected on a quarterly basis and depending on the amount of interest, the Department may increase or decrease the frequency of winners in the future.
"The goal of this campaign is to increase awareness, increase social media engagement and increase signups for our newsletter," Ryan Bush, Lynnwood Tourism project manager, told the Lynnwood Times. "It also serves to provide seasonally appropriate itineraries for our overnight accommodation guests. A common request from our accommodation partners is to help provide guides and itineraries of things they can do while in Lynnwood.
The bingo card campaign started in January and is updated quarterly with new items. The summer bingo card, however, marks the first time the Department has used a giveaway to support the pledge after previous cards, which were only promoted through a newsletter, failed. did not receive significant participation.
The city will continue to promote ways to "win bingo" with directions on its blog.
The city is also working closely with its accommodation partners and local businesses to promote tourism and overnight stays as the travel/tourism industry recovers from the pandemic through brochures and guides that will be available at all Lynnwood hotels and the convention center.
Plus, the newest Lynnwood Business Directory is released this summer, sponsored by the Lynnwood Chamber of Commerce, which features tons of new business information. The directory is currently available digitally and print versions will be available across the city within the next month.
"As the world has changed, we are listening carefully to demand from our hotels and why people are choosing to stay in Lynnwood. Over the next year, we plan to update the tourism website to be more user-friendly and provide visitors with ways to book a Lynnwood hotel directly through the site," Bush told the Lynnwood Times. .