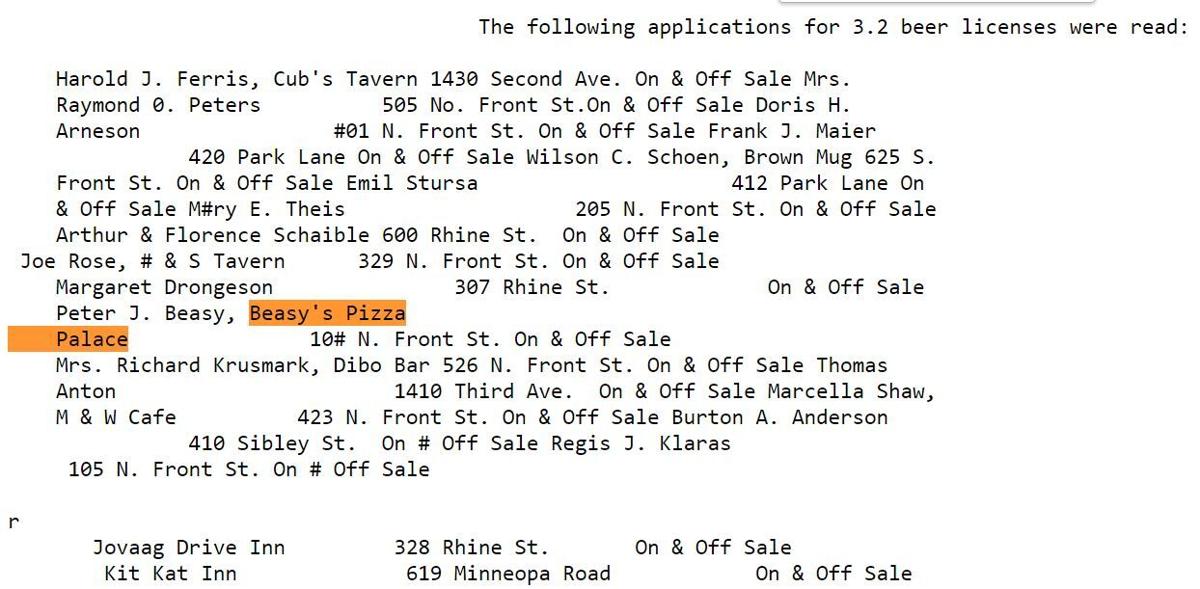 Ask Us: Pizza Memories Last Half a Century | Local News
Question: Here are MY facts: I had many meals (pepperoni pizza or ham and cheese hoagie were my favorite choices) at Marti's from 1971, when I arrived in Mankato, until 1977, when I left. Marti's was definitely in business in 1971. I clearly remember that one evening I had selected Roberta Flack's "Killing Me Softly with His Song" on the individual jukebox in the cabin. It was shortly after its release – and that was in 1972.
A: Wow. Last week's Ask Us column, which provided information on Mankato's first pizzerias, sparked strong memories of people who dined downtown in the late '60s and early' 70s.
The heartfelt lyrics to this Roberta Flack song on the Marti's Pizza jukebox were said to have been inspired by a woman's emotional reaction to a live performance in Los Angeles by singer Don McLean. But several people who lived in the Mankato area 50 years ago seem to have had an even more passionate response to their introduction to the pizza served along Front Street. Enough that if they had written the lyrics Roberta Flack might have sung something like this….
"I heard he made a good pie, I heard the Italian style. And so I came to try it out, and gulp down for a while. And here he is, this young cook, a gourmet in my eyes.
"Stun my taste buds with red sauce, scorch my tongue with hot cheese, fill me well with pizza, fill me well with pizza…."
The woman who remembers eating at Marti's while listening to Roberta Flack 49 years ago is Linda. And based on her phone number's area code included in her email, she appeared to weigh in from Alaska.
"Your response verified that Marti's was probably the place in question, but for the sake of accurate reporting I had to write to say the dates are out of date," Linda wrote. "I guess my anecdotal report doesn't constitute 'proof', but take my word for it, Marti's already existed in 1971."
A few local readers had a similar concern about the Ask Us pizza theme, including this response from Julie Anne: "Marti's Pizza was in business long before 1979! It was there in the mid-sixties, how many before that I'm not sure. But long before 1979. And their pizza was delicious !! I still miss them.
In Ask Us Guy's defense, last week's question looked for the name of the pizzeria that was near the Wagon Wheel Cafe – not precisely when it opened. The column reported that Blue Earth County Historical Society curator / archivist Shelly Harrison randomly pulled a pair of old Polk directories and determined that Marti's Pizza was at 619 S. Front St. – the same block as the Wagon Wheel. .
Harrison said she did not find Marti's in the 1973 phone book, but was listed there in the 1979 listings. She also reported that Pizza Kato was in business in the 1970s in another part of South Front Street.
Harrison actually called back, leaving a message on Ask Us Guy's voicemail after he left for the week: "I dug a little deeper. They are both listed in the 1968 yearbook.
Thus, Marti's and Pizza Kato predate the indomitable Pagliai's Pizza, which opened at 524 S. Front St. for 52 years and opened in 1969.
Pagliai elicited the most salivation in the comments section of the Facebook post of last week's column. But others fondly remembered the other places.
Pizza Kato "was amazing," Kevin reported. "My dad would take him home from time to time on Friday nights when he worked on the second shift at Hubbard Milling when we were kids. "
Fred described Pizza Kato as "awesome," adding that he was friends with the owner's son: "He would stay on weekend nights and his dad would bring home pizza after it closed. Very cool. And then in the morning we would go to the arcade at Madison East mall and play pinball for hours. Good memories."
Another reader, Steve, paid tribute to Marti's, which had "the best sub-sandwiches of the 70s".
Still others wanted to talk about the true pioneers of local pizza.
"I've been a huge pizza lover since 1967 when I first came to Mankato to attend MSU," Bob wrote to Ask Us Guy. "I saw a lot of pizzerias coming and going in Mankato. I'm sure some elders here in Mankato would remember a pizza place called "Beasy's Pizza Palace". … It was my favorite place for pizza, surpassing the other three pizzerias you mentioned in your article, although I have dined at all of them several times.
John also wanted to launch cheese the Beasy's Pizza Palace style.
"The one that's always left out, and that was on North Front Street, was called Beasy's Pizza," John said on a call to Ask Us Guy. "It was somewhere near the current Wine Cafe. It was in business in 1963 when I came here to go to college.
In fact, Beasy's was created years earlier, according to Ginny Miller of St. Peter.
"I contacted the Blue Earth County Historical Society. They checked their Polk City directory and Beasy's Pizza was listed in 1960, and I believe it was the first pizza in Mankato! Miller wrote. "I just want to give them the credit they deserve. I don't think I've ever eaten their pizza, but remember they were there next to Salet's (department store) in the 100 block of North Front Street.
There it is. When it comes to Mankato pizza, Beasy's was the pioneer, the tip of the spear, the tip of the slice.
Looking at the pizza pioneers in the wider Mankato region, however, it's a close fight between the gold and silver medalists.
"I, and two others, opened the first pizza place in St. Peter's in September 1959," Miller wrote.
Called "Pizza Villa", it had been in business for 25 years.
By all appearances, Peter Beasy was probably the winner. It was granted a 3.2 beer license for Beasy's Pizza Palace on April 20, 1959, according to Mankato City Council minutes, giving it four months ahead of Pizza Villa if Beasy delays opening until he can serve beer with his' za. Although there was a typo in the board minutes for Beasy's address, a subsequent license renewal lists the restaurant at 107 N. Front St.
Just in case there are some people who care as passionately about Roberta Flack's accuracy as they do about the accuracy of pizza history, Ask Us Guy will make a preventative fix for Linda from Alaska. Although "Killing Me Softly with His Song" was recorded in 1972, it was not released until 1973.
Question: So, did Ask Us Guy at least answer the second question last week?
A: Uh ….
The second question came from a 91 year old man living in an assisted living facility who was wondering if he could get a free fishing license. Ask Us Guy looked at the Fishing License Exemptions page of the Department of Natural Resources website, and no age exemptions were listed. People who live in certain types of facilities are exempt from the licensing requirement, according to the webpage, but standard assisted living centers are not one of them.
A few readers have responded to this incorrect answer with links to a provision in Minnesota law that exempts anyone under the age of 16 or over 90 from the licensing requirement, provided they are a resident of Minnesota. .
Contact us at The Free Press, 418 S. Second St., Mankato, MN 56001. Call Mark Fischenich at 344-6321 or send your question to mfischenich@mankatofreepress.com; put Ask Us in the subject line.